The Empowering Jewellery Statement: Diamond Right Hand Rings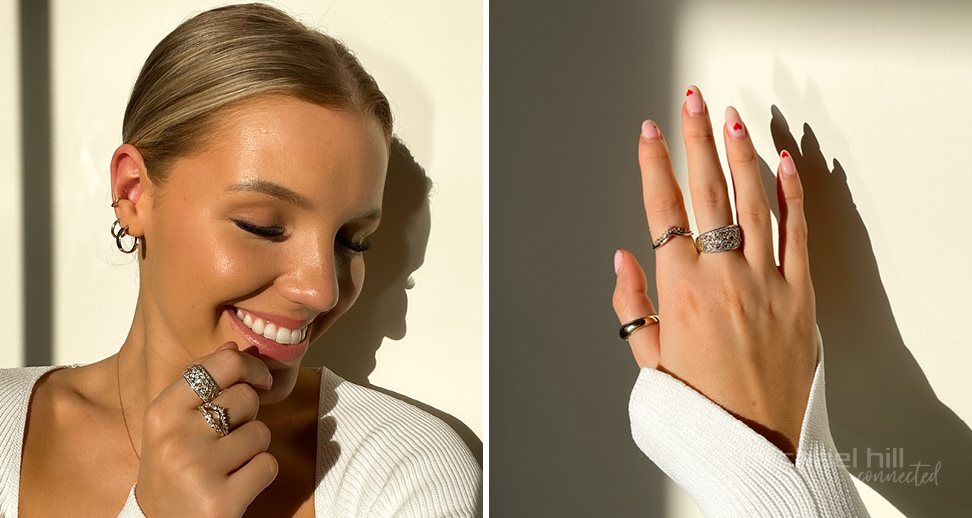 The diamond 'right hand ring' (so named to differentiate these fashion styles from engagement rings, traditionally worn on the left hand) is an empowering statement when you gift one to yourself. It's a clear, wearable (and very beautiful) way of shirking the tradition that says jewellery is only something to be received as a gift, or that diamonds are just for engagement rings.
Of course, names aside, diamond rings can be worn on whichever hand and whichever finger you prefer. You can also stack them and style them in whatever way suits your personal style.
To inspire you, we asked two empowered women and style influencers – Annabel and Kimberley – to share their top tips for styling a diamond statement ring.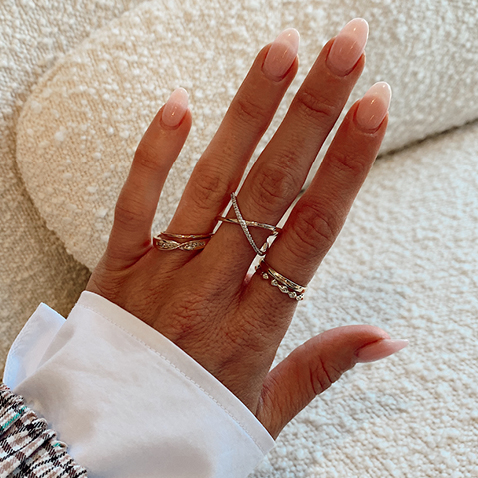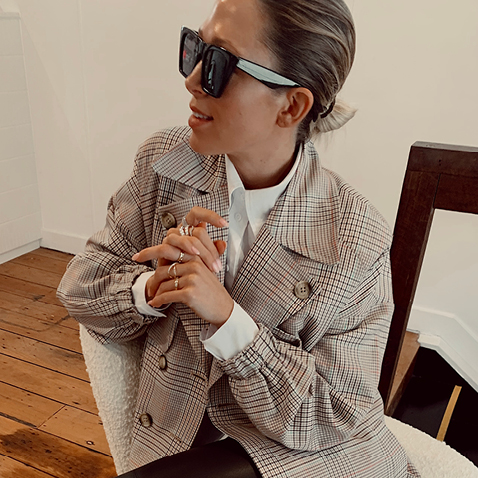 "I love how empowering it is to wear a statement ring on my right hand, as a nod to self-love and independence.
Tip 1: Mix metals
One of my most asked styling questions is: "Can I mix jewellery metals?" My answer? ABSOLUTELY! Mixing yellow gold, white gold, silver and rose gold adds interest to an outfit and creates a relaxed feel to typically corporate outfits such as suiting. It opens up hardware options in terms of your accessories (belts or handbags) and allows for a unique spin on jewellery trends.
Tip 2: Add texture
Add intricacy with the addition of texture to break up the 'bulk' of your ring layers. Twisted metals and engraving are fun ways to create movement, and don't forget to incorporate various stone shapes and cuts. The idea is to reflect light and create depth, making simple jewellery pieces blend beautifully with your statement pieces.
Tip 3: Find balance
One of the hardest parts of layering is finding the perfect balance between too much and too little. Depending on the size of the individual rings, I often find that a 'more is more' approach works well. The key is to keep the stacks uneven across both hands. If you stack rings on three fingers across your right hand, only stack across two fingers on your left. A 'matchy-matchy' approach to a bohemian ring stack defeats the purpose!
Tip 4: Size matters
Last, but certainly not least, the size and shape of your bling plays an important role. Start with your bolder pieces to instantly 'fill the gaps' and establish the perfect balance across both hands (remember to keep things uneven!). Then take your fine jewellery pieces and layer to suit your comfort levels.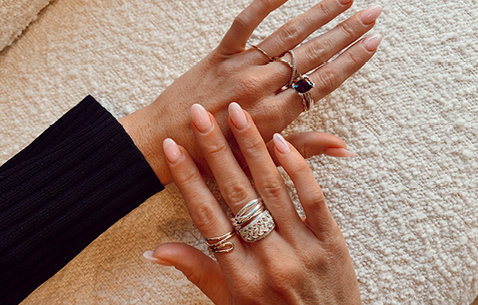 My finished look, which is centred around the diamond multi row ring, makes me feel so empowered. Using my styling tips above, the look is textured, layered, but also balanced. It makes a statement and I feel so confident to wear these jewels on my right hand, with all that it stands for."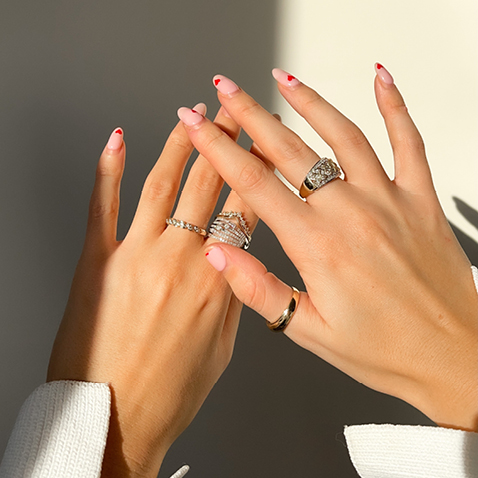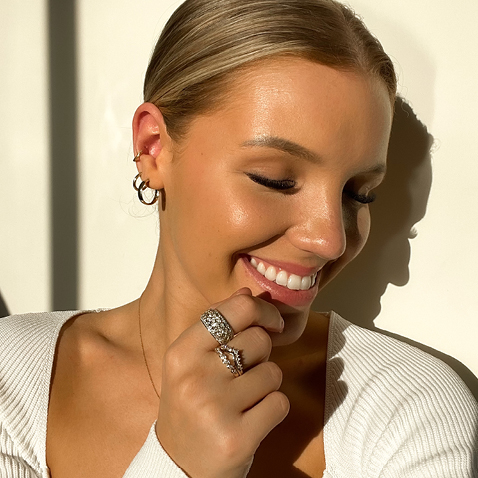 "It's so empowering to buy yourself a diamond ring, as opposed to diamonds being reserved for engagement rings. Buying for yourself is the ultimate act of self-love!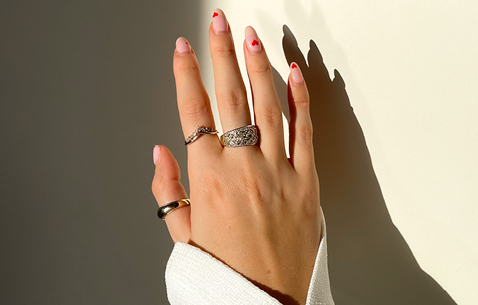 Tip 1: Start with your statement ring
This stunning pavé ring is super versatile. The white gold and yellow gold detailing mean it can be paired with any jewellery or look, and the intricate details make a real statement when I wear it on my right hand.
Tip 2: Change up your stacking rings
The ring can be dressed down with a plain band for daily wear or dressed up with glitzy stacker rings like this diamond chevron ring for special events.
I also love pairing chunkier rings with diamond stacker rings like this wedding band to add some contrast. I can wear these rings all day long and feel confident!
Tip 3: Style your outfit to your ring
It looks great paired with a detailed cuff and puffy sleeve to draw attention to the hand. I love how the diamond pavé ring stands for so much female power and independence, which gives me the confidence to pair it with any outfit.
Tip 4: Keep the rest of your jewellery simple
Wear with simple chains and plain hoops like these hoop earrings in 10ct gold to make your rings really stand out! These earrings compliment the look, but still let the ring be the main feature and get the love it deserves."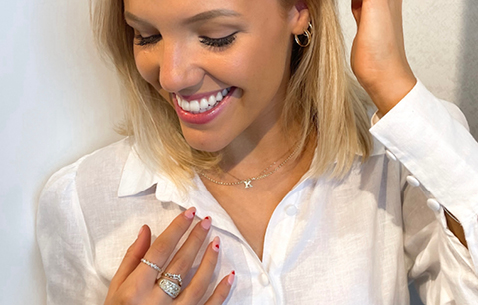 Words by Megan Greaney
Megan has been a writer for over 10 years, and has been writing content at Michael Hill for over two years where she has gained an extensive knowledge of jewellery – from styling and craftsmanship to materials and stones. With a background that also includes fashion, and studies of Journalism and Anthropology, she is perceptive of the emotions and cultural contexts linked to what we wear.
Last updated 17th August, 2021