How to: Style a Diamond Earring Stack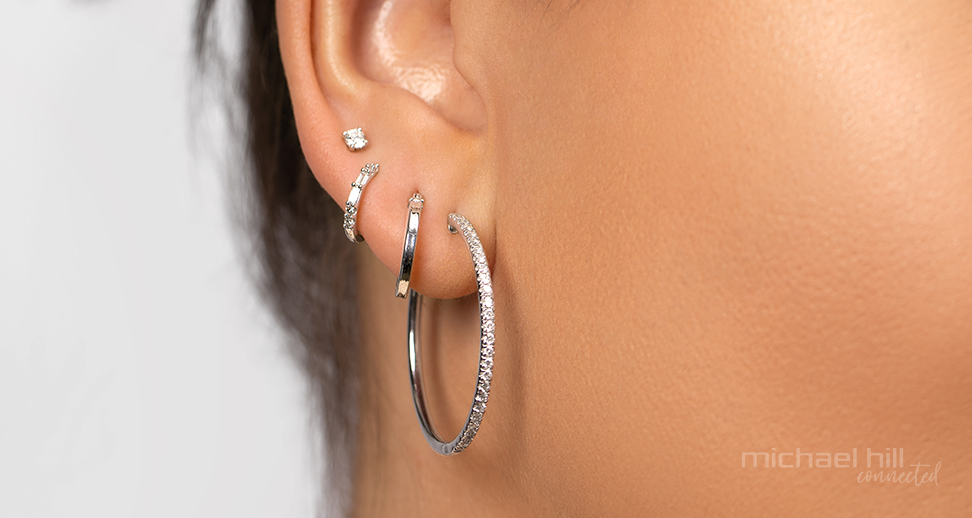 The perfect way to uplift your look every day is with a pair of elegant and versatile diamond earrings. Adding sparkle on their own, diamond hoops, studs, and drop earrings will also look beautiful paired with your favourite gold or silver jewellery.
To inspire you, we've styled two unique earring stacks in yellow gold and white gold colourways, featuring some of our new-in diamond hoops.
Look 1: Yellow Gold & Diamond Earring Stack
A classic combination, pairing yellow gold with diamonds will create a luxurious look that you can wear for all occasions.
Step 1: The simplest guideline for perfecting your ear stack every time, is to place your largest or boldest earring in your lowest earlobe piercing and scale down from there. We've started this look with a classic yet eye-catching gold hoop.
Step 2: Add some sparkle. This is where our yellow gold diamond hoops come in – this style is fine enough for everyday wear, but will instantly dress up your look.
Step 3: You can easily stop at two earrings, but for more of a statement keep building with a third hoop. We've used a dainty yellow gold hoop to tie in with the first earring.
Step 4: Want to add more? Keep your pattern going with a diamond mini hoop earring to top off your stack.
Step 5: Put your hair up and let your earring stack shine!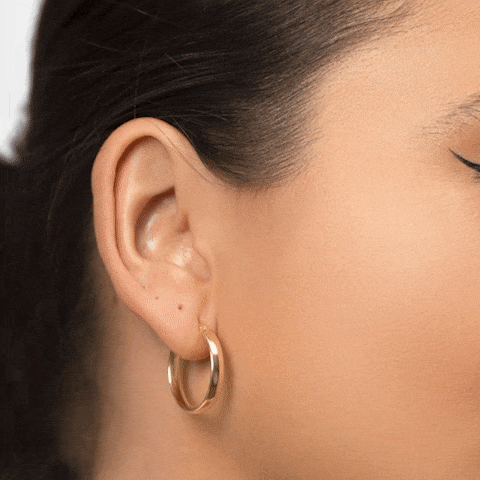 Look 2: White Gold & Diamond Earring Stack
If white gold or sterling silver are your precious metal of choice, this look is for you. Modern and timeless at once, this combination is also highly versatile to style with any outfit and for any occasion.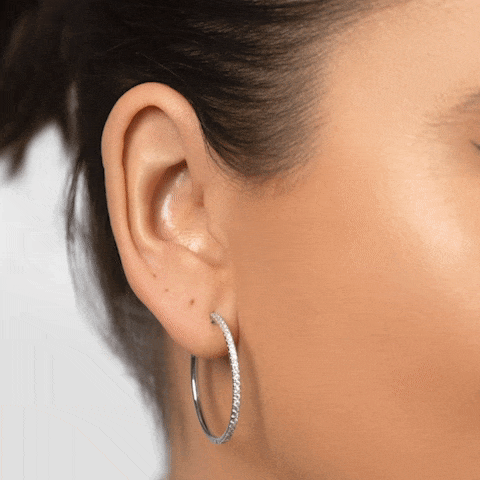 Step 1: We have started this look with our new pavé diamond and white gold hoop earrings. This style is available in a range of diamond carat weights, so you can choose a fine, everyday earring or make a bigger statement with extra sparkle.
Step 2: Mix your earring textures, by placing a simple, polished white gold hoop next to your diamond centrepiece.
Step 3: Balance out your statement diamond hoop with another, smaller diamond earring. We have styled a small diamond hoop, which is perfect for adding understated sparkle.
Step 4: Finish off your stack with a diamond solitaire stud. The quintessential must-have in every jewellery wardrobe, you can wear your classic diamond studs alone for effortless, everyday elegance, or style them with ease into any earring stack look.
Diamond earrings are the perfect addition to your jewellery wardrobe. Whether you wear them alone, or stack them up with multiple earrings, they'll bring instant elegance to your look every day.
Words by Megan Greaney
Megan has been a writer for over 10 years, and has been writing content at Michael Hill for over two years where she has gained an extensive knowledge of jewellery – from styling and craftsmanship to materials and stones. With a background that also includes fashion, and studies of Journalism and Anthropology, she is perceptive of the emotions and cultural contexts linked to what we wear.
Last updated 20th August, 2021