Front & Back Stud Earrings with Cultured Freshwater Pearl in Sterling Silver
Details
https://www.michaelhill.co.nz/front-back-stud-earrings-with-cultured-freshwater-pearl-in-sterling-silver-14417313.html
20 Reviews
Description

A modern addition to any look, these sterling silver stud earrings features two cultured freshwater pearls each which are designed to sit in front and behind the lobe.

Product Details

Metal content

Sterling Silver

Metal colour

Silver

Gemstone

Cultured Freshwater Pearl

Delivery & Returns

FREE standard shipping for all orders over $70. Orders under $70 will be charged a flat fee of $9.90.

Once your order has shipped, please allow 2-7 business days for delivery depending on your location. Orders requiring ring sizing take up to three (3) additional business days to complete.

If for any reason you are not 100% satisfied with your purchase, you may return it online or in-store within 30 days of delivery for an exchange or full refund. Subject to meeting the requirements of our refund policy.

For more information, visit our FAQ page.
11254485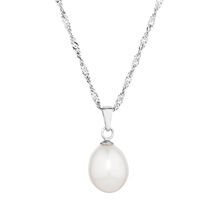 Customer Reviews

20 Reviews
24 Sep 2020
LisaMMc72
Sydney
Has anybody else had issues with putting these on
The hole to screw into the earring is so small it's almost impossible to get them on by yourself and needs another person to be able to fit ??
08 Aug 2020
Jo2020purchase
Chadstone Australia
Poor quality
I didn't even get to wear these. As I tried to unscrew the back pearl the post of the earring broke. I wanted my money back however the sales assistant assured me he hadn't had this issue before. So they'll be going back for a refund if it happens again.
My sister looks stunning in these and they hide previous stretcher piercings well
My sister was really happy with these after I got them for her birthday. I specifically got them to hide her previously stretched earlobes (when she wants to) and she's been wearing them ever since!