8 Ways to Style Amethyst Jewellery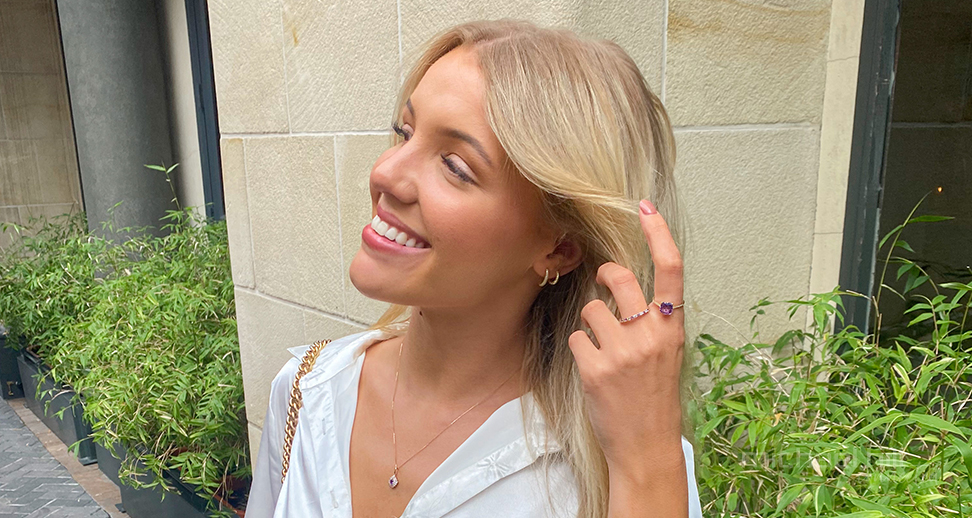 Amethyst is the birthstone for February, so we're putting the spotlight on this stunning gem. Amethyst is a variety of quartz that ranges from a soft, romantic lilac to striking deep violet in colour. It's loved for its beauty as well as its symbolism – it's thought to promote wisdom, peace, and clarity of mind.
When it comes to styling coloured gemstone jewellery, it can be hard to know where to start – especially if you have a statement piece you want to wear. Two style influencers, Kimberley and Mollie, have shared their favourite tips for wearing amethyst jewellery to help you work this eye-catching gemstone into your look with confidence.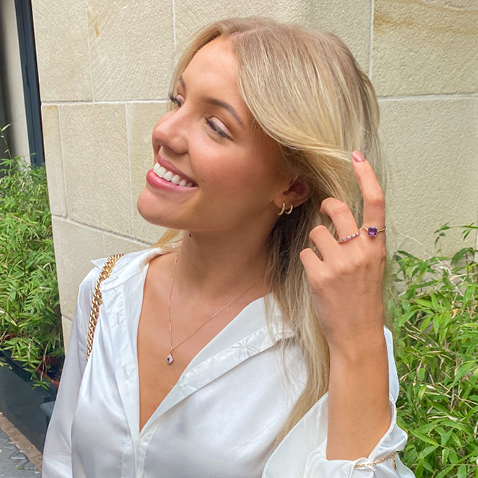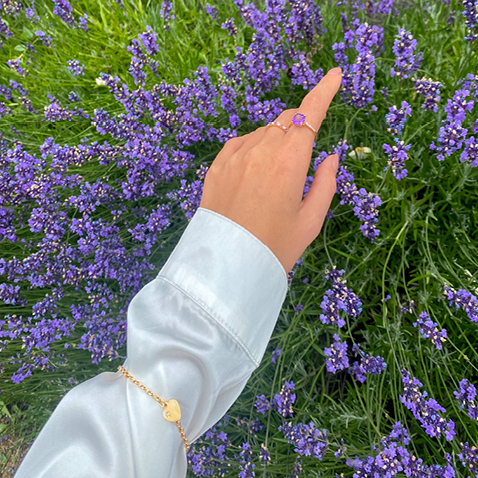 Shop Kimberley's favourites:
Tip 1: Keep it simple
A good option is to choose simple pieces such as gold hoop earrings to compliment the amethyst jewellery, without taking the focus away from the pop of colour.
Tip 2: Pair with diamonds
I love how diamonds look with the amethyst! This statement ring, stacker ring, and necklace look great as a trio because they all have the same components, yet are designed differently. The varying combinations of gold, diamonds and amethysts between these three pieces is a dream.
Tip 3: Let your gemstone pop
I love to style jewellery with a simple outfit, I chose a white long sleeve satin dress. Neutral colours make the jewellery stand out, while the satin texture shines alongside the diamonds. I wore the heart bracelet outside of my sleeve so that it could be seen, and to add something fun and a little bit different to the look!
Tip 4: Start with a statement
If you're feeling overwhelmed with options, firstly pick a single statement piece that you really love. Then, choose aspects of that statement piece to decide what to style it with. Play around with textures of clothing and how the jewellery looks with different materials.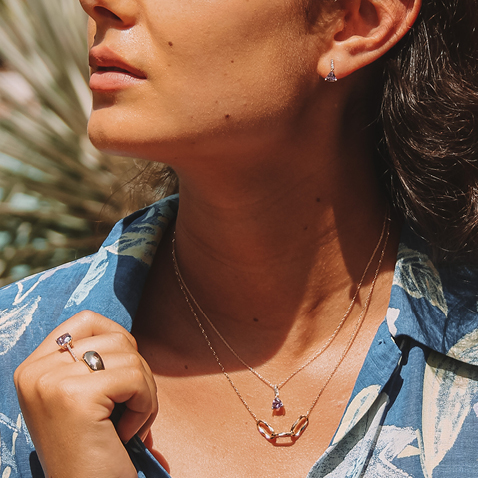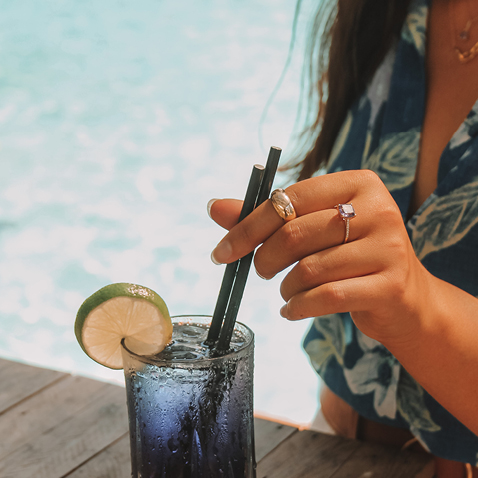 Shop Mollie's favourites:
Tip 1: Put a frame on it
When showing off a statement amethyst necklace, stack it with a longer delicate chain to perfectly frame the jewel and direct the eye to your colourful piece.
Tip 2: Make it heavy
To balance out all your delicate pieces, change it up by adding an attention-grabbing, solid gold ring which will draw the eye to that stunning amethyst ring on your next finger. 
Tip 3: Less is more
I don't like to over-stack necklaces or rings, and when you really want to showcase particular pieces, leave off extra styles like bracelets to keep the attention where you want it.
Tip 4: Let the jewellery do the talking
Keep your hair back behind your ears or up off your shoulders to let your décolletage and your jewels shine!