ALL ABOUT GEMSTONES

Diamonds might steal the spotlight, but bright coloured gemstones are the real storytellers. Gemstones can be deeply symbolic, or just a pop of colour, but regardless of what brilliant hue you choose, they always turn heads. With colours, cuts, and settings that range from timeless and traditional, to wildly on-trend, our collection of coloured jewellery is designed to tell the beautiful story of you.
Choosing your coloured gemstone jewellery
The magical thing about coloured jewels is they can mean different things to different people. A twinkling blue sapphire can celebrate a birth month, a favourite colour or a precious memory- or all three. Michael Hill carries a selection of natural and created gemstones to fit any budget. We understand that every woman's jewellery box needs timeless pieces to be cherished forever, mixed with on-trend jewels to express the fashion of right now.
At Michael Hill, we use both natural and created gemstones in our jewellery. You'll notice the word 'created' in the description when shopping, but a better word is 'recreated'. Why? Because created gemstones are carefully made in a laboratory with the same chemical structure as rare, natural gemstones. This means you're getting a precious, brilliant stone at great value.
Know your Gemstones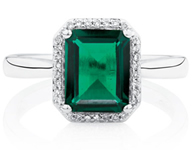 Emerald
Emeralds are known for their bright green colour and are a dazzling match to both yellow and white gold or a cluster of diamonds. Emeralds are said to mean 'success in love', and being a harder gem, these precious stones are a popular choice.
SHOP NOW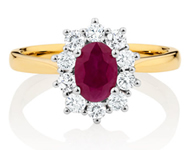 Ruby
Love, passion, and good luck- Rubies are said to bring all three. Rubies are a precious stone and range in colour from a soft bubblegum pink to a crimson red. They are a tough gem and therefore make a good choice for an everyday piece. We say, throw them on with a T-shirt and jeans and you're ready to go!
SHOP NOW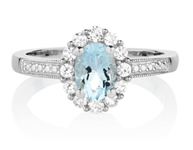 Aquamarine
Considered a precious gem, aquamarine is a softer blue than a blue sapphire and a similar shade to the blue topaz. Aquamarine has a similar structure to emerald as they are both a variety of Beryl. Love the ocean? Maybe treat yourself to this sea-coloured stone.
SHOP NOW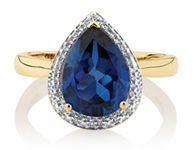 Sapphire
Sapphires come in yellow, purple, orange and green but are most commonly a deep navy blue. Another hard gemstone, this iconic stone means peace and serenity.
SHOP NOW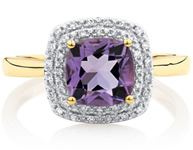 Amethyst
Meaning sincerity and security, amethyst is the stone for the woman who loves purple. Royal and eye catching, the amethyst ranges from a deep violet to a subtle lavender.
SHOP NOW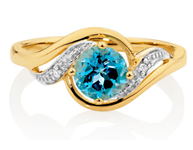 Blue Topaz
The lustre of the blue topaz is what makes this pretty stone so popular. Regarded as a healing stone, this sky blue jewel was used as a protection amulet in many ancient cultures.
SHOP NOW
Buying an engagement ring?
A colourful engagement ring can be a break away from tradition and a beautiful way to celebrate a bright future together.
A coloured gemstone engagement ring can be less conventional and more budget-friendly than a diamond one, but keep in mind they are softer and more susceptible to daily wear and tear. It's also important to not pick a colour on a whim, or because it is a fashion trend. Your loved one will appreciate the personal meaning or story behind the choice, so make sure you take your time.
If you're not sure about a ring with a coloured gemstone as the focus, a ring with a colourful accent can be an unexpected and special choice too.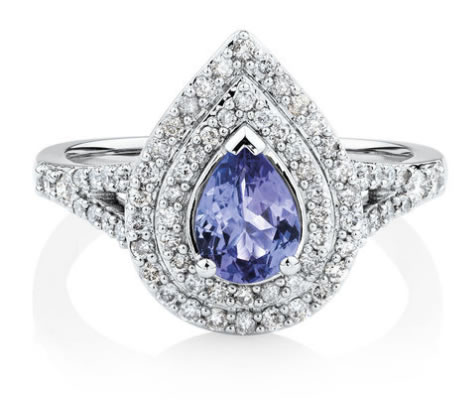 Looking after your jewellery
Taking care of coloured gemstones is important because they are often more brittle than diamonds. You're very welcome to bring your gemstones into a Michael Hill store to have them cleaned, but if you want to do it yourself, then you can find some simple tips here.